The St. Louis Cardinals, the National League's best team in the first half of the season (they won a very impressive 58 games) showed the up-and-coming New York Mets why they will be the team to beat this summer. The home team Redbirds won two of three games, losing only on Sunday in a memorable 18-inning marathon.
Game one took place on Friday night at oppressively hot Busch Stadium and pitted Mets rookie pitcher Noah Syndergaard against Lance Lynn.  Curtis Granderson opened the game with a home run off Lynn who then gave up only two more hits in seven strong innings. Lynn also fanned nine Mets hitters.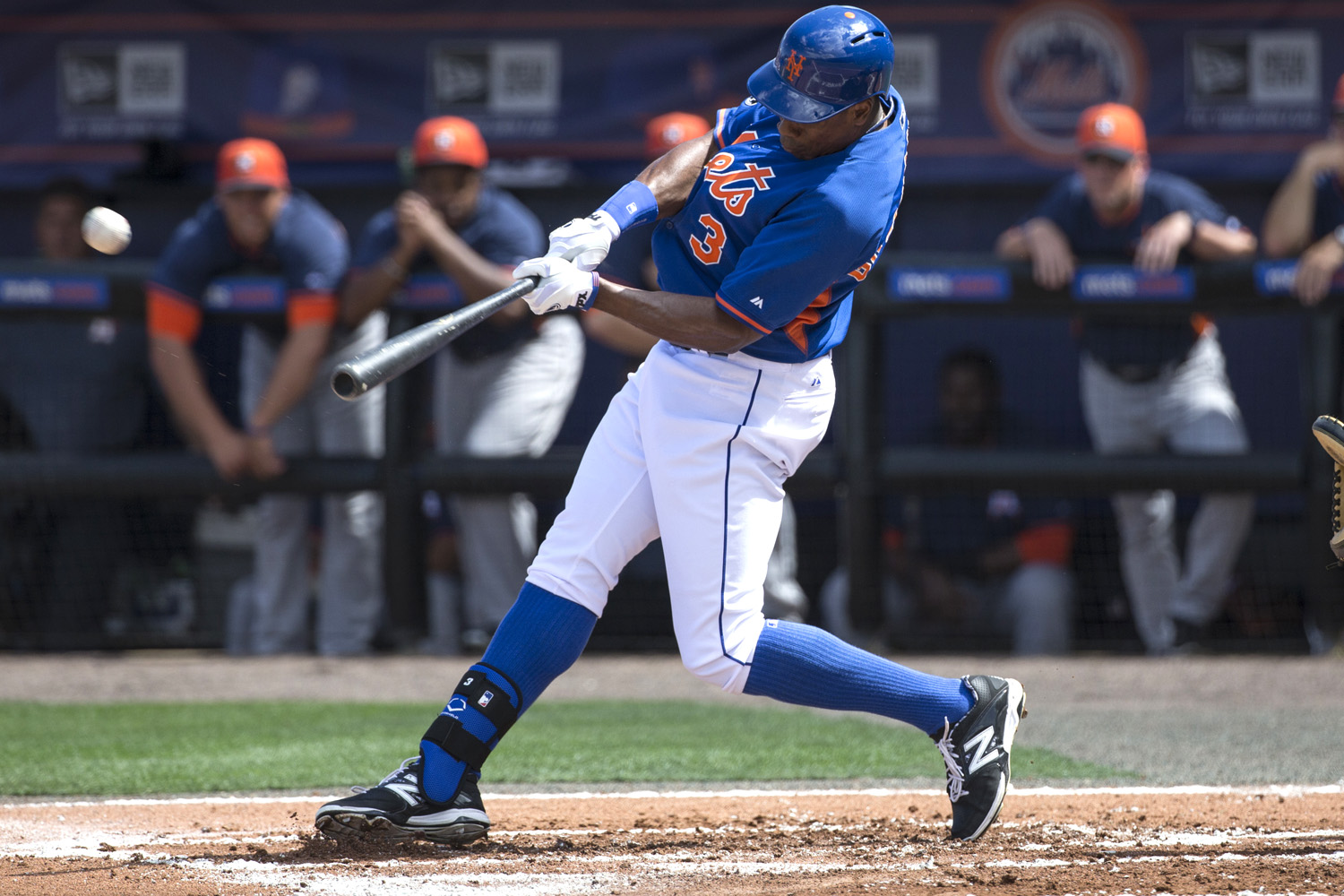 Graphic via mets360
Syndergaard, who is only 22 years old and seems to be improving with every start, pitched a strong game, as well. He held the powerful Redbirds scoreless through five innings, giving up only a couple of hits.
In the sixth inning, Cards second baseman Kolten Wong singled and quickly stole second. A throwing error allowed him to move to third base. He scored on a groundout by Matt Carpenter. Then, with the score tied, Jhonny Peralta hit a home run to give the home team the lead.

Graphic via themajors
The Cardinals scored again in the 8th inning and that run proved to be the winner as the Mets tallied once in the 9th inning making the final score 3-2.
Game Two, played on Saturday, was a rout for St. Louis. They scored early and often off of Mets starter and ageless wonder Bartolo Colon. A four run 1st inning was followed by a big 5th inning and an equally productive 8th inning. The final score was 12-2.
It was the final game of the series, which was played on Sunday afternoon that created quite a buzz. The contest lasted eighteen innings and remained scoreless until the 13th inning. That's when the visitors finally plated a run and left a runner stranded on third base. It proved costly because the Cards tied the score in the bottom half of the inning when Kolten Wong hit a home run off Mets closer Jeurys Familia. It was only his third blown save of the season.
The upstart Mets could have become demoralized at this point, but instead remained resilient. And then, in the eighteenth inning two singles and a misplayed sacrifice bunt left the bases loaded with no outs. Mets shortstop, Ruben Tejada hit a long sacrifice fly to right centerfield. That was followed by a successful safety squeeze.
The two run lead proved to be more than enough as Mets middle reliever Carlos Torres mowed down the home team in order in the bottom of the eighteenth, giving the Mets a much-needed 3-1 victory.
Carlos Martinez, a starting pitcher, lost the game dropping his record to 10-4.Despite the loss, the Cardinals, as they almost always do, won the series 2 games to 1.
Graphic via espn