Is a relief pitcher worthy of the Cy Young Award? You may not be aware that as many as nine relief pitchers have been honored with the accolade.
Mike Marshall (LAD) 1974.
Sparky Lyle (NYY) 1977
Bruce Sutter (CC) 1979
Rollie Fingers (MB) 1981
Willie Hernandez (DT) 1984
Steve Bedrosian (PP) 1987
Mark Davis (SDP) 1989
Dennis Eckersley (OA) 1992
Eric Gagne (LAD) 2003
Trevor Rosenthal of the St. Louis Cardinals is a relief pitcher who is currently ranked fifth for the 2015 National League Cy Young Award with 113.1 points. This 2015 MLB Cy Young Predictor ranks Max Scherzer (WN), Carlos Martinez (SLC), Gerrit Cole (PP) and Zach Greinke (LAD) as the only pitchers ahead of him.
Rosenthal was playing shortstop for Cowley County Community College in Kansas when the Cardinals selected him in the 2009 MLB Draft. He was immediately sent to the Cardinals minor league system to become a pitcher.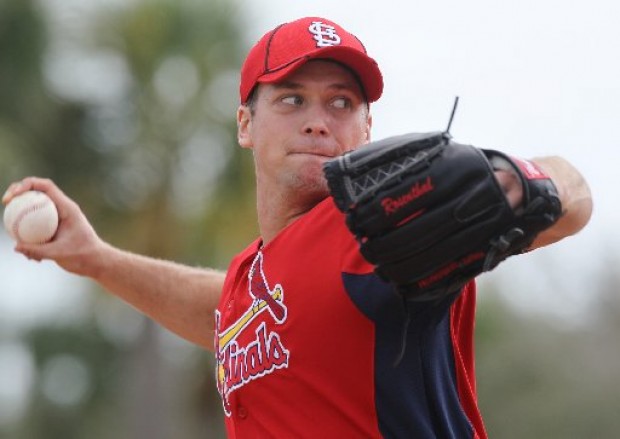 Graphic via stltoday
Called up to the show in July 2012, Rosenthal didn't impress and was sent back down to the minors. However, he was re-called in August and stayed with the club for the rest of the year. This time he did impress. He chalked up seven consecutive scoreless performances and posted a 2.78 ERA with 25 strikeouts in 22-2/3 innings. He limited opponents to 14 hits in 89 plate appearances. The best the opposition batters could muster was a combined batting average of .175.
He also performed well in the postseason. He was instrumental in helping the Cardinals defeat the Washington Nationals in the 2012 National League Division Series. He made seven appearances in the series and gave up no runs and the Cardinals went on to the NL Championship Series. Overall in the postseason he faced 30 batters and struck out 15.
Early in the 2013 season, Cardinals closer Jason Motte injured his ulnar collateral ligament and required Tommy John Surgery to repair. He was out for the rest of the season.
Rosenthal was assigned to the set up role and Edward Mujica was named the closer. Mujica pitched well, but due to fatigue and ineffectiveness Rosenthal was pressed into becoming the closer. He saved three games and finished the regular season having pitched 75-1/3 innings. He recorded an ERA of 2.63 and 108 strikeouts and averaged 12.9 strikeouts per nine innings.
Again, the Cardinals went into the postseason and Rosenthal continued to pitch well. He notched 11-2/3 more scoreless innings in the National League Division Series against the Pirates. In the National League Championship Series against the Dodgers and the World Series against the Red Sox he struck out 18 of the 40 batters he faced and gave up only four hits. He won a game and saved four games during the series.
In two postseasons, Rosenthal had delivered. He allowed no runs in 20-1/3 innings in the 2012-2013 postseasons combined. Moreover, he permitted only six hits and struck out 33.
After his successful performance in the 2013 postseason, Rosenthal announced that he wanted to be a starter in 2014. However, Motte was recovering from Tommy John surgery and Rosenthal was convinced to serve as the team's closer instead.
During the 2014 regular season Rosenthal pitched 70.1 innings and achieved 45 saves (fourth in MLB). He had an ERA of 3.20, a WHIP of 1.41 and a WAR of 0.9. He gave up 57 hits and only two home runs. During the postseason he appeared in 4 games and achieved an ERA of 4.91. In 3.2 innings pitched he gave up 7 hits, 2 earned runs, 5 strikeouts and three walks. His WHIP was 2.73.
So far in 2015 he has recorded 31 saves with an ERA of 1.71 and WHIP of 1.23. He's pitched 47.1 innings (as of July 30), given up 42 hits and one home run. He has also notched 52 strikeouts and given up 16 walks. He was selected to his first All-Star game and received more votes from fellow players than any other reliever.
Rosenthal's best pitches are a mid-90s sinking fastball and 100 mph straight fastball as well as a curveball and changeup.
With a number of starting pitchers doing well this season, one would suspect that one of them would be the Cy Young Award winner this year. In previous seasons when a relief pitcher won the award, the starting pitchers' performances, although good, were not great.  This year in the National League Scherzer, Greinke, and Cole are pitching well and Kershaw's reputation can't be overlooked once the votes are counted.
Perhaps the top reliever for 2015, Trevor Rosenthal will not win the Cy Young because there are too many great performances from the reservoir of starters.
Graphic via zimbio